Sicilian "Delikatessen"
Authentic Italian Cuisine
Something Special for every Palate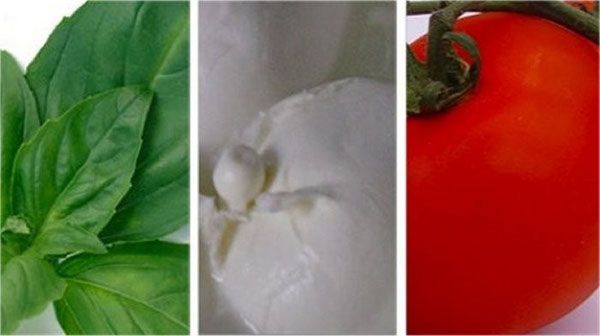 Extra Large Sicilian "Cannolo"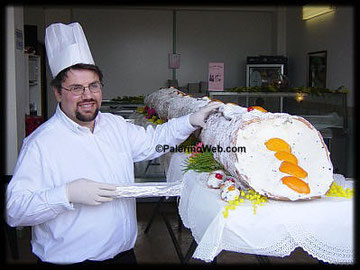 When most people think of Italian food, pasta and pizza come to mind.
But Sicilian cuisine,  transcends these ubiquitous culinary delights.
Sicilian desserts are superlative. Cannoli are made of tubular crusts with creamy ricotta and sugar filling. The ricotta here is made from sheep's milk.
If you plan to go on a diet, don't go to Sicily.
Cannoli are among the most magnificent Sicilian pastries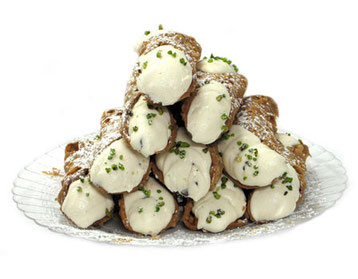 The shell of Cannoli" is a dough made of wheat, butter, sugar and other ingredients. It is formed into an oval, wrapped around a dough ring and fried.
The shells can be filled with creme by using a spoon or pastry bag.
If not served quickly, the shells will lose their crisp texture.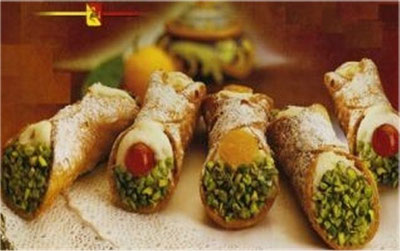 The fried wafers are traditionally filled with ricotta cheese sweetened with powdered sugar and added of candied fruit, pistachios, and chocolate chips.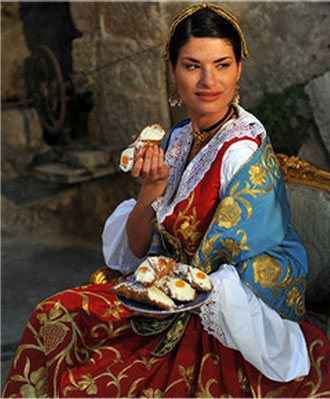 Sicilian "Cannoli" is one of the most classic desserts from Sicily and every Sicilian family who emigrated abroad in the early 1900's, took great care to have the recipe in their pocket!
Wherever you go in the world, if you find a Sicilian family, then you can be sure they know how to make cannoli.
"Cannoli" are available all year round in pastry shop all around Italy and wherever Sicilians have settled.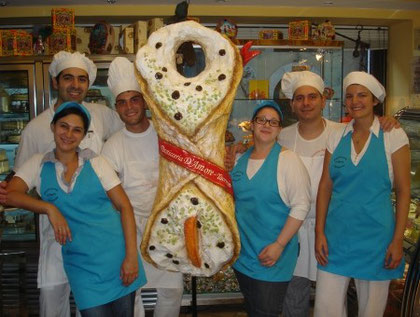 The Sicilian "Cassata"
The Sicilian "Cassata" consists of round sponge cake moistened with fruit juices or liqueur and layered with ricotta cheese, candied peel, and a chocolate or vanilla filling similar to "Cannoli" cream.
It is covered with a shell of marzipan, pink and green pastel colored icing, and decorative designs.
The cassata is finally topped with candled fruit depicting cherries and slices of citrus fruit characteristic of Sicily.
"Martorana" Fruits jewels of the Sicilian patisserie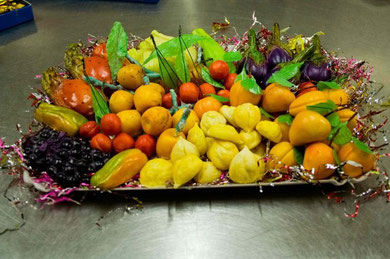 It is the result of an intense activity of the most skilled pastry chefs.
Can be defined a true masterpiece comparable to a natural fruit.
The only thing that differs from the real fruit is the inside made of selected Sicilian almonds, sugar and candied fruits.
Jasmine Ice Cream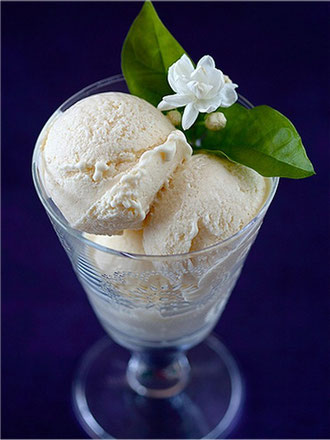 Since ancient times Jasmine has been thought of as the 'queen of flowers', there is no fragrance sweeter than that of Jasmine.
This typical Siclilain recipe makes a rather rich and creamy ice cream, not too sweet and gently scented with jasmine.
"Granita"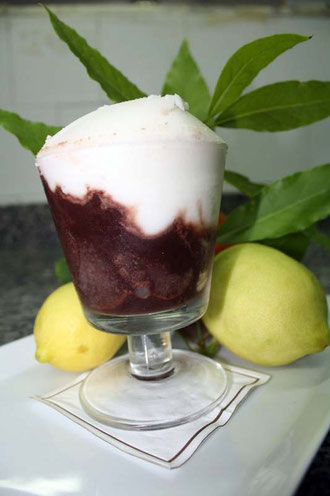 Granita is a semi-frozen dessert made from sugar, water and various flavorings. Originally from Sicily, although available all over Italy.
But "Granita" in Sicily is somewhat different from the rest of Italy.
Common and traditional flavoring ingredients include lemon juice, mandarin oranges, jasmine, coffee, almonds, mint, and when in season wild strawberries and black mulberries. 
Chocolate granitas have a tradition in the city of Catania and, nowhere else in Sicily.
"Caponata"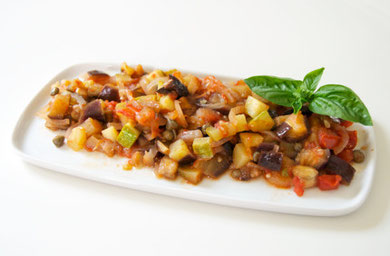 The "Caponata" a tasty salad made with eggplant (aubergines), olives, capers and celery, makes a great appetizer.
"Sfincione"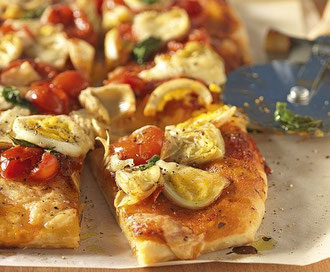 "Sfincione" is a local form of pizza made with tomatoes, onions and sometimes anchovies.
Prepared on a thick bread and more likely found in a bakery than in a pizzeria, sfincione is good as a snack or appetizer.
"Panelle"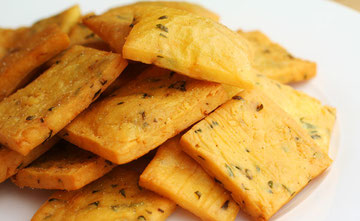 "Panelle" are flat fried cakes made from the finely-ground flour of chickpeas, known in Spanish as "garbanzos" that maybe of Arab origin.
They are a favorite snack food found in fryshops.
Sure, Sicilian cuisine has other tasty finger foods, including potato croquets "Crocché", but "Panelle" are among the oldest, made continuously since the Middle Ages.
Sicily is renowned for its seafood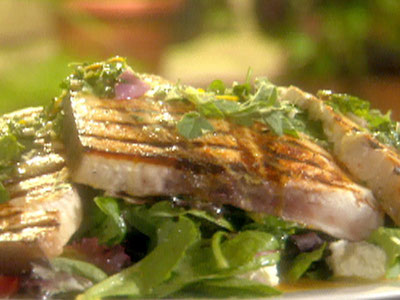 Grilled swordfish recipe with Sicilian sauce is very popular. No one ever guesses the "secret" ingredient - anchovies - in this recipe because you can't really taste them.
Smaller fish, especially snapper, is sometimes prepared in a vinegar and sugar sauce. 
Cuttlefish is served in its own black sauce with pasta.
Another Sicilian seafood dish made with pasta is fennel with sardines
Chicken or Veal "Scaloppine al Marsala"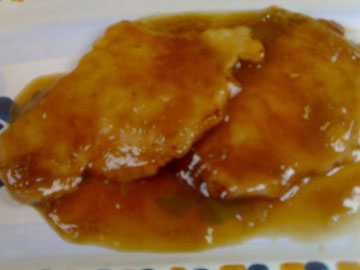 It is a slice of meat quickly sautéed and sprinkled with a liquid, usually with alcohol and sometime adding a vegetable, like mushrooms or peas, and simmered to allow all the ingredients to blend and release their flavors.
Usually Marsala wine is used because this combination blends deliciously and gives this dish an incomparable taste and aroma.  The "Scaloppine" are also aromatized with lemon instead of Marsala, and preferred by some people for its tangy taste and delicate flavor.