Cyclades islands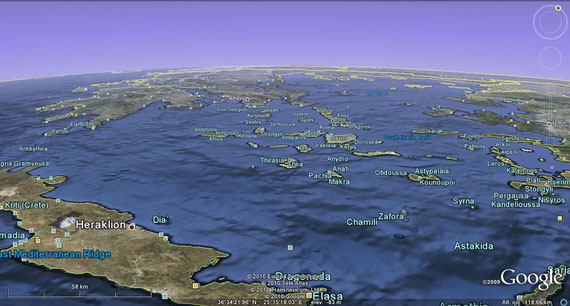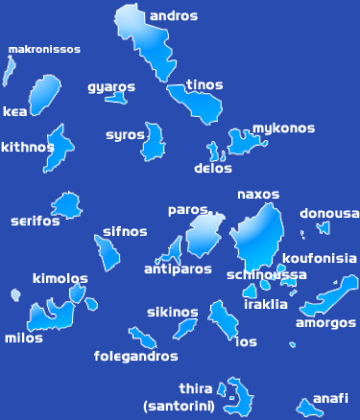 The Cyclades islands are composed of 41 islands of which 24 are inhabited. Each of them has its special charme and its characteristic.
They are the most famous of all Greek islands with Amorgos, Anafi, Andros, Antiparos, Delos, Ios, Kea, Kimolos, Folegandros, Milos, Mykonos, Naxos, Paros, Santorini, Serifos, Sikinos, Sifnos, Syros and Tinos.
Travelling there, you can find vivid cosmopolitan nightlife and at the same time tranquility and peace.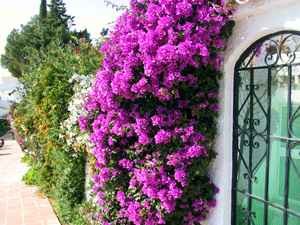 The traditional architecture of the villages in the Cyclades are world known and are composing a cliche of Greece.
Small characteristic white cubist houses with blue doors and windows,  bougainville pedestrians alleys,  windmills, sunny beaches and old ruins.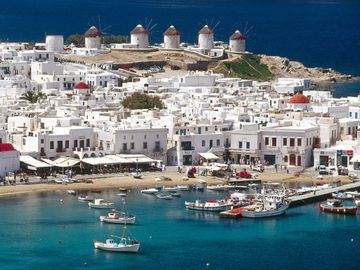 The Cyclades are islands to dream about; sun-kissed outliers of rock and dappled earth lying scattered across the glittering Aegean Sea.
Golden beaches, olive groves, pine forests, herb-strewn mountain slopes and terraced valleys make for an irresistible mix.
Throw in a dash of hedonism, and a culture that draws vividly on ancient and modern themes, and the Greek Island dream can become reality.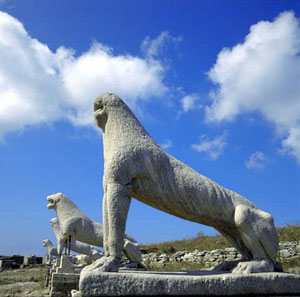 The Cyclades are so named because they form a  circle around the island of  Delos, one of the world's most haunting ancient sites.
Delos is a rocky island and lies south-west of Mykonos and it is one of the smallest of the Cyclades. As Apollo was born on Delos, the island was therefore of great importance in antiquity.
The extensive area of remains, excavated under the direction of French archaeologists from 1873 onwards. is one of the most important archaeological sites in Greece.