PAXOS and ANTIPAXI
Paxos is the smallest of the Ionian islands and lies about ten miles South of Corfu. 
The resident population is around 2500, the majority of whom live in three main harbour villages.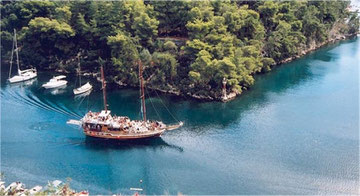 Except in high season there are relatively few cars and only a handful of taxis.
The best way to discover Paxos is to get around by motor boat, allowing you to discover the numerous remote beaches of the East coast.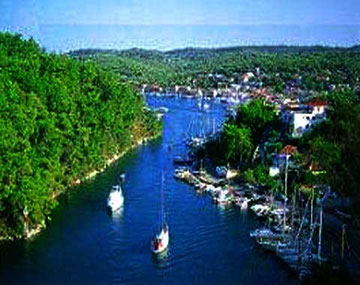 Paxos or Antipaxi is a Greek island in miniature that puts everything on a human scale.
Tiny villages, tiny beaches and tiny hills, a bit like a trip to Legoland but charming and interesting as well.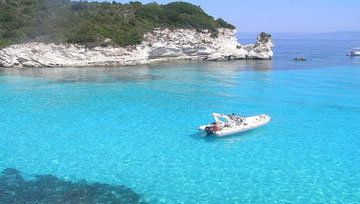 Abundant flora and fauna also make it a favourite with amateur botanists and ornithologists, especially in spring.
Natural scenarios of real beauty are ready to be discovered around every corner of the coast.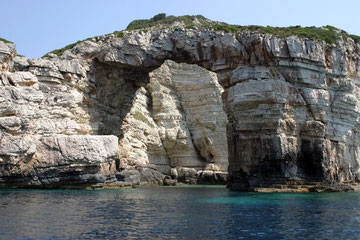 Home to a quarter of a million olive trees, it is also reputed to give the best olive oil in the world though there are plenty of other islands that claim the same.
Endless ranks of olive trees go with you all time long the inland.
The normal way to reach these islands is by ferry from Corfu, a number of ferries run every day during the holiday season.

Antipaxos could very well be considered the ultimate Greek island, if not the best in any single respect. You get pretty terrific scenarios all araound the coast.

The island is small, cozy and green. Very pretty to look at.
It's small villages are about as picturesque as it is possible to get.
The main town of Gaios set in a gorgeous deep bay, the very small and friendly Loggos and the picturesque perfect Lakka  are the only three villages of this nice island.