FUERTEVENTURA
With three thousand hours of sunshine a year, Fuerteventura is the closest Canary Island to the African coast with only 100km separating the 'Punta de la Entallada' from Cape Juby in Morroco and is the second largest (after Tenerife) of all the islands.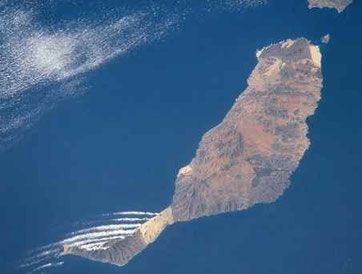 The weather conditions of Fuerteventura are very similar to Florida and Mexico which are on the same latitude, which make this the ideal holiday location.
There is nowhere else in the Canaries with as many enormous sand dunes and long sandy beaches (more than one hundred and fifty).
Even though most of the land consists of stone and rock, these are some of the most impressive beaches in the whole of Europe.
In the history of time Fuerteventura is generally regarded as the oldest of all the Canaries and its strange contours come from various volcanic episodes. The last eruption occurred around 7,000 years ago. Its miles and miles of broad sandy beaches and golden sand dunes make Fuerteventura the ideal holiday resort for everyone.